SARPE Day 5 Post Op/ NO MORE POWERCHAIN!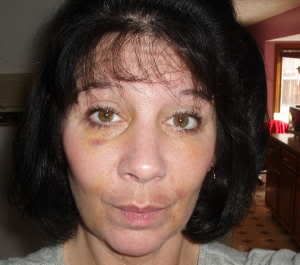 Today is day five, and believe it or not I'm starting to feel a bit more human! Swelling is mostly gone when I awake. I have spotty areas like right above my left sinus area, and my top lip is still mildy puffy, but it goes away quickly. The bruising is fading pretty rapidly and should be pretty easily covered with makeup today, and I can actually see my cheekbones again! The stitches in my lower molar extraction have completely dissolved, and most on my upper incisions have healed too. I still have a few, especially in the front that are tender, but things seems to be progressing along at a pretty rapid pace. I also think that I have received the benefit of increase airflow through my sinuses. They have been clearer than ever and I haven't had any problems with breathing issues at all. In fact I haven't had any real issues especially since I took things into my own hands last night (see below.)
Ok.....I must confess, yesterday was a very bad day for me. I had thought that it was the expansion process causing problems but I figured out later last night (after 3 days of non-stop, constant, pressure pain) that it was that blasted powerchain on my front teeth. I have been absolutely miserable since my ortho put that thing on my front teeth. At about 11:00pm last night I reached my saturation point. I couldn't stand it anymore so
I took it off !
OMG! instant relief, it was truly amazing how much better my teeth felt once that tini tiny piece of rubber was removed. I slept great, no drooling at all!, and expansion this morning was a piece of cake. I felt the pressure but it was not annoying and only lasted about 10-15 minutes. Oh...and the most exciting news. Even after only 5 turns, I can see my upper arch and smile getting bigger! That was totally cool!
For those of you who will be having this surgery, understand that my discomfort was from my archwire and powerchain and not the SARPE procedure, or expansion itself
. If you don't have these then you should be fine!
This sounds bad, but my ortho has a ton of patients. When you come in to his office they have a welcome sign for the new ones with their names on it. Every day there is at least 8-10 new ones listed. Originially my ortho and I had talked about my gap and he had told me out how he could put a chain on it and then it wouldn't get so big. I was like ok.....then I did a bunch of research and couldn't find anything on it, and Dr. J. didn't really support it either so I told him to not worry about it that I would just learn to love the gap and be ok with it for awhile.
Well.....I think he makes very detailed notes in the patient files so he remembers stuff, and I think the information from our original conversation about putting the chain on for aesthetic reasons was in my chart. I'm sure that he read it and then just told the assistant to put the chain on.
Personally I feel better with the powerchain off, and since they can close the gap later, I'm not going to worry about it. When I go in for my appt on the 27th after expansion I'm going to tell him I took it off because after three days of constant non- stop pain it was just unbearable for me to wear. I'm also going to talk with him about going slow on some of this stuff. I think my teeth are pretty sensitive to pain, even the really flimsy wires really make my teeth ache. When I told him that the other day he was like "really, those hardly apply any force" and was very surprised. I think we just need to go slow, even if that means my surgery is not going to be in May 2007 but at a later date. I'm prepared to suffer for what I want, but I can't function when the pain is neverending for weeks at a time, and I'm not a person that likes to take medicine. I rarely if ever take advil or anything else. It's vitamins for me and thats it, so all this medication has me feeling sorta blah! Anyway....things are definitely on the upside now.