SARPE 24 Hours Post Op.
Well before I get started I have to give Kudo's to my Oral Surgeon. He has clearly done a wonderful job with this whole procedure. I followed the Drs. orders yesterday and took penicillin 4 times a day and advil every 4 hours. I went to sleep last night at about 11:00pm. I slept all night with no pain, and woke this morning to no pain.
Stitches are no longer bleading. I have some numbness in my front teeth when I brush,
but not anything that is too unbearable at this point. My face is swollen today. I pretty much look like a chipmunk storing nuts for the winter. Swelling is mostly on the right side and the whole front lip area and above it (like under and around my sinuses.) My front lip looks pretty bad like someone punched me and gave me a big fat lip. It doesn't hurt at all but is puffy for sure. Once you look at the pictures below you will understand why it is so puffy as it is very bruised, it truly looks the worst of everything. I figure this must be due to my braces being in the way. I think they are pressure bruises. Again, I must say that although it looks very bad....it does not hurt! What is strange is that the right side of my face is so much puffier than my left. I also had the wisdom tooth and lower first molar extracted on the left so I would've expected it to be the worse on that side. I seem to have a big bruise on my lower right cheek which I think is the main culprit of all the swelling there, I can honestly say that I have absolutely no pain whatsoever in my lower tooth extraction or upper left quadrant. Actually I have no measurable pain to speak of at all. Eating is getting better, still difficult but better and I managed to get two fried eggs and some hashbrowns into myself for breakfast this morning with absolutely no problems. I can say that chewing is a bit weird feeling though. When I bite down I feel it in my whole upper arch, like it is loose (which it is) so I suppose that is to be expected. Compared to what I thought this was going to be like it has been a piece of cake. I have no regrets at this point. My doctor says day three will probably be the worst for swelling so I will keep you all posted on my progress thoughout.
The pictures below are rather graphic, so if you have a weak stomach then don't look at them.
Top Lip Bruising and Stitches
Top Left Stitches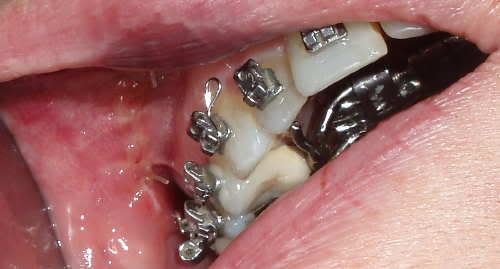 Top Right Stitches
Pre Facial Pic
Post facial swelling (Few hours after surgery)
This Morning