Lots of Comparison Pics
So, things are progressing along and getting better everyday. At 7.5 weeks post op the numbness in my tongue has really gotten better. I'm sure it is going to go away completely now with time. The area it covers is gradually shrinking and is now only about the left front tip area. The numbness in my lower lip has also come down a lot and somedays it almost feels normal. I'm back to full workouts at the gym 5 days a week now, and weight lifting. I just make sure I'm very careful to keep my mouth open so that I don't clench my teeth together during heavy lifting. It is sorta tricky but I'm getting pretty good at it. I've also noticed that when I do my step classes that towards the end of class my lower lip gets really numb and cold. I had a hard time talking after class today as my mouth just didn't want to cooperate with me. Between the numb lip, and triangle rubberbands it is quite challenging to speak clearly sometimes.
It's been awhile since I posted some comparison pics. So here is where we are at.
This pic was taken in 1997 when I was 33 years old. It is the face and teeth I was born with and is prior to any of my orthodontic/orthognathic work.
This was taken yesterday at 43 years old. Post SARPE, Upper, Lower, and Genioplasty. You can really see the difference in my chin, and I think my cheekbones look rounder and fuller too. As for my nose, it has changed a bit, but is really not noticible unless you really knew me before. I actually think it looks better now that the bimax has been done. I noticed a much bigger change in my nose when just the SARPE had been done, and I really wasn't that fond of it.
This was my pre surgical mouth taken on Feb 16, 2006 (First Day with Braces)
This is my smile now, post SARPE, Upper, Lower, and Genioplasty.
This is what we started with (my pre-surgical palate)
This is where we are at now, post all the surgeries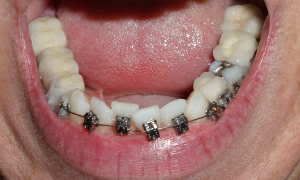 This was my lowers on Feb 16, 2006 (day one in braces)
This is my lowers as of today.