OMG! I'm almost Surgery READY!
I went in for my 4th adjustment today. It was not very fun! I ended up in the chair for about an hour and a half. Doctor came and checked me, we talked about my upcoming root canal, he shaved my crown down a bit as it has been annoying me (its too long), next he had the assistant put new giant 17 something wires in. She got the top wire almost all the way in when my back left bracket came off. So the doctor had to put a new one on which took a few minutes. Then she reinstalled the top wire, and put a new gold powerchain on it. Then it was on to the bottom ones. Same exact story as the top. Almost done, when the back bracket popped off. So...doctor had to put the new bracket on that tooth. She then proceeded to finish installing my new giant wire, and a nice new gold powerchain on the bottom.
See how thick my new wire is?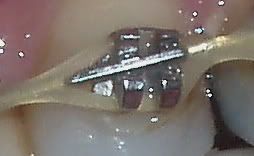 My new gold powerchain smile! LOL..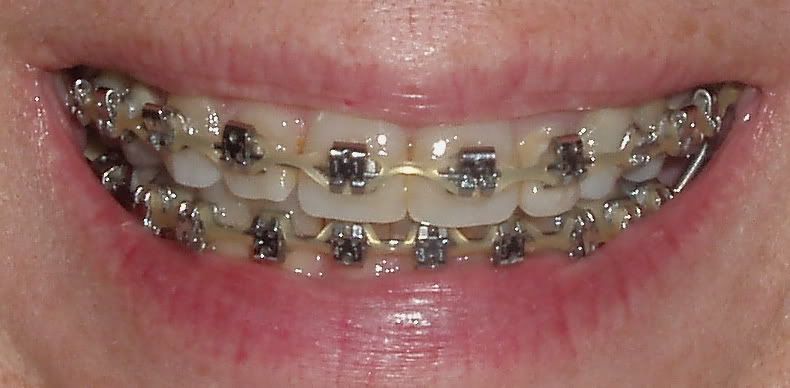 Ok NOW FOR THE BIG NEWS!
So...I'm just about finished when the doctor says. "Uh Brandy..your next appointment will take a bit longer. Your occlusion is looking great and I want to take impressions, so we can line them up and see how were doing. I think we may be ready or that you are very close to ready for surgery" I ABOUT FELL OUT OF MY CHAIR!!! I said REALLY??? He said "yeah, everything is lined up pretty nicely" I said OMG that is totally cool! and way ahead of schedule! He laughed and said, "yeah your teeth have moved fast" I was totally floating on a cloud when I walked out! I couldn't believe it! Here is my most recent upper and lower pic. Don't they look AWESOME! I'm so thrilled with how they look now!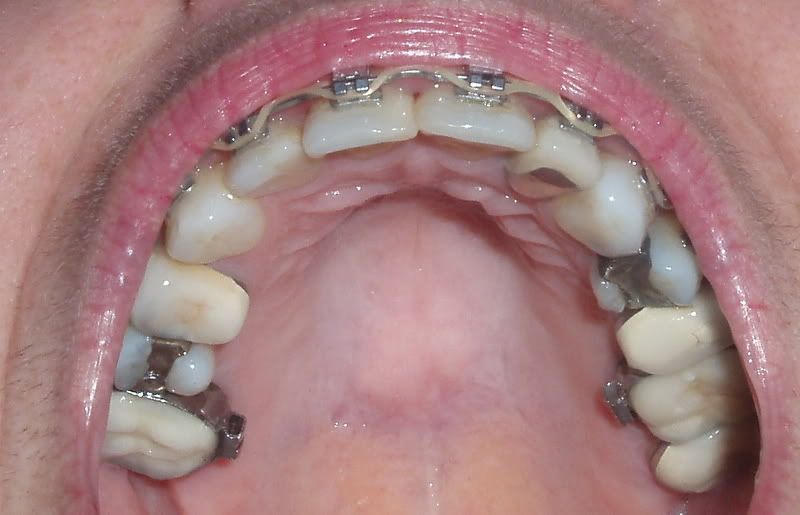 Now...here is my dilemma! I totally want to have this surgery gone like yesterday! I had originally set it up so I could have it done in May, as I'm off for the summers and it would give me almost 4 months to recover before having to go back to work. I could have surgery in December, however, I would only have about 5 weeks of recovery time, and my dh and I are scheduled to take our long awaited honeymoon (7 years we have been waiting and the tickets have already been bought) I would only be about 2 weeks post op if I did this in December. Now, it seems only logical to wait til May, but OMG I'm like almost ready! I so hate the thought of wearing my braces for another 6 months, but I definetly think the honeymoon would be affected if I was in pain and couldn't eat! Ughhh! its so not fair!