I Love Powerchains! Sortof......
Ok, so I had another adjustment today, not exactly sure what number it was just that it was another one. I had planned on taking these really good pics I took into my ortho and talking to him about my rotated canine etc. Well I decided to not do that and see what he was going to do today. It was actually good that I didn't as the placed was packed and he didn't really have time to chat with me about much of anything. I did ask if my canine was ever going to rotate. He said it would eventually, and I thought he was going to do something to it to make it happen but then he didn't. He said my teeth look like they are lining up very nicely. So, he had the assistant put a 17 copper niti wire (which is up one size from my last ones) and gold powerchains on both my uppers and lowers.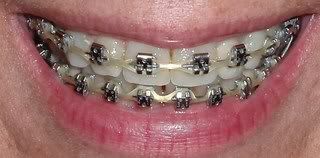 (See my new smile)
I was glad to finally have powerchains on the bottom and top instead of just either or. My lowers developed that nice space between the two front teeth again, this past adjustment, as my ortho was trying to rotate my lower canine and had a powerchain on only a few of them so it yanked them apart again. I can already feel the new wire and powerchain closing the space so hopefully in another few day I will be gap free again

.

It is always amazing how quickly my teeth move, and how something as simple as a little powerchain can make such a huge difference. Already my teeth feel like they have shifted and my bite now feels even better than it did previously (and lately it has been feeling pretty good.) So that is pretty cool.

(This is a picture taken today of my upper arch. My left canine needs to rotate a bit more, but things are definitely coming along. My lowers are looking ok, but if you look closely you can see the big gap between my incisors that we are trying to close again.)
It is always amazing how quickly my teeth move, and how something as simple as a little powerchain can make such a huge difference. Already my teeth feel like they have shifted and my bite now feels even better than it did previously (and lately it has been feeling pretty good.) So that is pretty cool.

Next vist (January 31st) I have to have impressions again!

UGHHH!...impressions with braces suck!

My ortho says my OS will want to see the models when I go for my pre-op scheduling exam. So, hopefully if all continues to go well I will be scheduling an appointment with my OS about the first week of February and hopefully scheduling my May lower jaw surgery. :) yeah!

One more day til I go to Hawaii! Can't wait!

I will post new updated pics tonight.

Brandy
Sept 14
Oct 15
Nov 1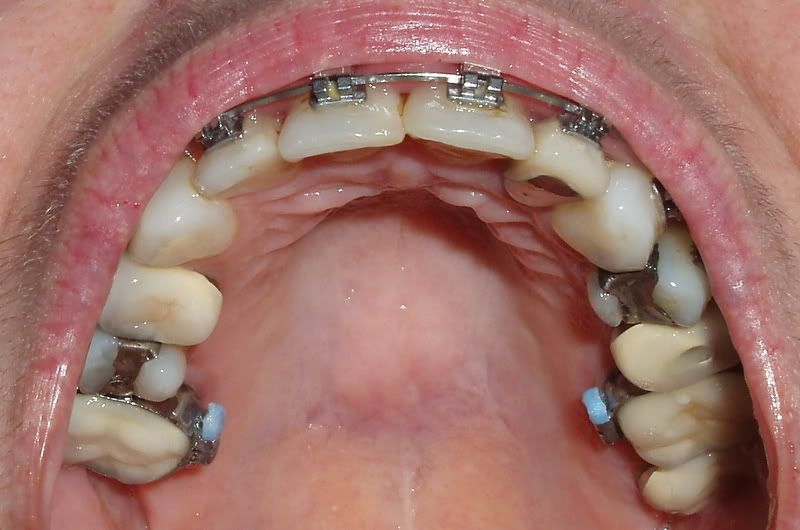 Dec 15