3 Months and 1 week post SARPE
Well its been a week since I have posted. It has been sortof hard, like I have been having blogger withdrawl or something! LOL. Things have pretty much been just progressing along as before. I still have a very slightly numb area behind my front left incisors that is has been pulsing a lot lately. It is, however, getting better daily and is almost imperceptible so it is really not much to report about.
I thought I would post some pics today. Stephanie asked for some, and I'm bored so I figured why not. The first is a pic of my pre RPE palate (with spacers) then day one with the RPE. The second set is the last day of my RPE (after the SARPE and expansion), and how my palate looks as of today with the TPA.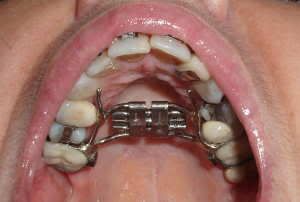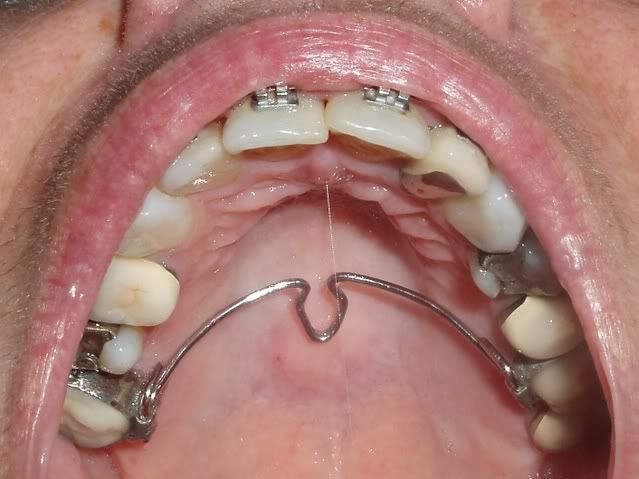 You can really see how my palate has changed since the SARPE and RPE experience. Man I'm so glad that RPE is out of my mouth. I shutter to even think about that part of the whole process. It was so miserable! BUT! I'm so loving my new smile, and my ortho says that I haven't seen anything yet, that we really haven't even begun moving my uppers yet! I can't imagine what else he plans to do to them but hey....he's the doctor so I look forward to the results.
My lowers remain stationary with no noticible movement from this worthless powerchain I'm wearing. That part really stinks as I hate these big spaces between my lowers. I'm trying to be patient and look on the positive side though.
Sleeping problems have returned now. Not sure what exactly has changed but I just know I'm not sleeping as well. I tried to sorta rig my sleep appliance and wear it the other night, but it ended up being really uncomfortable and I pulled it out during the night. I might try hooking some rubberbands onto my brackets again tonight since my upper teeth are no longer sore and my lowers are now used to the pulling from the powerchain. Hopefully it will work, as I'm very tired, and having a really hard time remembering things lately.
Today...was the last day of school for me! Wooo Hooo! Look at me me me, I'm free free free, I'm as happy as can be be be! LOL...pretty obvious that I work at the elementary level huh?
It has been a crazy busy year for me with lots of changes. My principal got switched to another school, but then a position came open for a counselor there so I put in for a transfer. It is closer to our new house and I get to follow my principal over there. Plus it is the actual school I went to elementary school at. It was so weird walking the halls today, meeting the staff, and standing in the very rooms that I got my education in as a child (35 years ago). It is going to be a lot more work (22 Classrooms) and about 550 students compared to my lovely little school of 280 kids and 11 classes, but I'm up for the challenge and just feel drawn to the school for whatever reason.
I will post again in a couple of days with any new progress.