TPA Officially Removed!
Haven't posted in about a week. Wish I could tell you that I"m 100% yet but still can't. My front left incisor is still tender and still a bit numb and achey. It is still sore behind it also. Here is a pic of my TPA free palate as of today. I'm officially 4.5 months post op SARPE now.
I went to the ortho this afternoon and was blessed by having my TPA removed. Man it is strange to be able to totally feel my palate again. It feels so spacious in my mouth now! LOL... Like moving from a condo to a mansion! My ortho said normally he would wait til I'm in a much larger wire, but that he needs to relapse me a bit (I'm a bit over corrected with my palate expansion space), so he took it off. He did say that he might have to put it back on at a later date, depending on how things go, for now though I'm appliance free! Now with that being said, he put me in a much larger wire. Check out the difference between the pre TPA removal wire verses what I got today.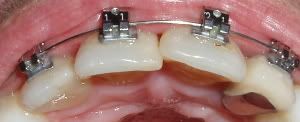 Can you say OUCH! Needless to say my uppers (mostly just that sore front incisor and my rear molar) are screaming tonight. I've been popping advil every 4 hours. :( He did warn me though that it was a considerably larger wire, A 16 copper NiTi I think he said.....(which in ortho speak translates into "FYI this is going to hurt" )
In addition to all of these changes I got a new power chain on my lower teeth today also. This time they only ran it from my incisor to my other incisor rather than all the way back to my rear molars. He kept the same wire on again which sorta bummed me out, as I honestly have not seen any change in my lowers since my last visit. I figure he must know what he is doing though so we shall see I guess. It does feel tonight like the space we are closing is a bit smaller though so I will do my best not to second guess him, and truthfully my lowers are looking pretty good these days so I can't really complain much. The good doctor did say that he was very pleased with my son's and I's progress. That things are looking very good, so that was encouraging. He also confirmed again that we should be able to have me surgery ready by next May.