Day 26/ Tongue Soreness Quick Fix!
Today was another bad day with tongue soreness for me. When I went to the orth on Monday he tied off my RPE appliance. Basically what this means is that he put a wire through the key hole, wrapped it around a few times, then twisted the two ends together and tucked them into the side of the spring mechanism on top. This was fine, but the twisted wire is now part of the irritation going on with my tongue.
I tried all day to cover it with wax so my poor tongue could get a break but the wax just doesn't want to stay where it is put, or it melts into the grooves and leaves sharp edges again. By the time I got home I was almost in tears my tongue hurt so bad! My husband (bless is ever patient and thoughtful heart) came up with this idea and since it worked so well I felt like I had to share it.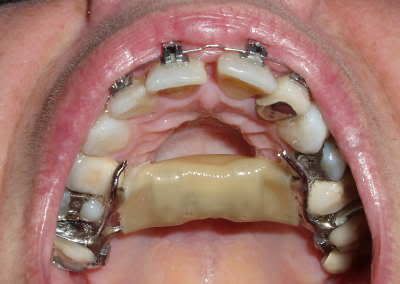 Basically what we did was take one of the bandaid blister bandages (large size.) We trimmed off the oval shaped edges so it was just a flat rectangular shape. These bandages are not super sticky to the touch, but seal very well. They also are meant to absorb fluids from blisters so they stick well in wet or damp areas. The absortion powers are limited so they don't swell up huge but it actually sorta works to a benefit as it creates a sort of cushion. Ok...so here is what we did. I took the bandaid, cut the edges off, then slid it through the top of the appliance and out through the back. I then reached in with my fingers and pulled the section sticking out of the back of the appliance around the bottom to connect with the front of the bandaid portion (where I initially slid it in) I then pinched the two pieces together really tightly up as close as I could get it to the appliance, so that it was sorta tight. Then trimmed off the extra. I rotated it so that the sealed edges are between the top of the appliance and the roof of my mouth. OMG it was instant relief. These bandaids don't have a taste to them, they are smooth, and once the edges are sealed they hold like glue. You literally have to cut them off with a pair of scissors. I have not tried eating with one on yet as we didn't put it on til this evening, but I did drink some stuff with them and they worked great, no problems or issues at all. I will try eating tomorrow and report how that goes! At any rate I'm just so relieved to have a break from the constant rubbing and irritation! These bandaids really work well I tell you! See the pic above of what it looks like once it is on. Here is a pic of the type of bandaides you need to get.
Not sure if anyone else does this, but I have been clenching and grinding my teeth like crazy since I got this appliance. I often wake up in the mornings with a headache or my jaws aching from my night time jaw activities. I had keep getting temporal headaches in the morning from all the clenching etc.
Lower teeth are still moving but the pain has subsided and I didn't have to take any advil or pain reliever at all today. I'm so excited to see the movement and glad we are making progress.
I have slept for two nights with no appliance or rubberbands. I do feel like I'm sleeping and I'm not waking my husband up snoring so that is a good thing. I will follow up more with that later in the week but for now things seem to be going well.