Day 32/ Burning In Front Teeth a Good Sign?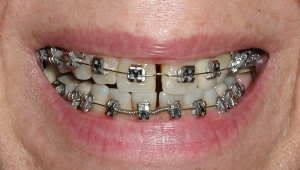 Here is a new pic of my current gap. Tomorrow will be two weeks since expansion was finished. My gap is starting to close a bit more and I have noticed that in the evenings I feel my front teeth sorta throbbing or pulsing. Today my front teeth were bothering me all afternoon. They had sortof a burny feeling between them. I have heard that burning is a good sign though, so I'm hoping that it means that things are proceeding on schedule and my body is busily working away at healing. Notice my nice matching lower space (gap) now. I think my teeth just like to copy each other :)
Here is a new pic of my post surgery face minus the swelling, and bruising. I can say that my cheekbones look much bigger to me now. This pic makes my nose look huge, and while it has expanded a little it is not as big in real life a it looks in this pic...must be the angle or something. I'm starting to really like my newly emerging smile too. I'm definitely glad I have made it this far and chosen to do this. Even though the RPE is really annoying me, I still don't regret my decison at all. My tongue is not feeling so sore today, but I also didn't spend as much time talking at work so that is probably why.