Check Out My Kobayashi Hooks !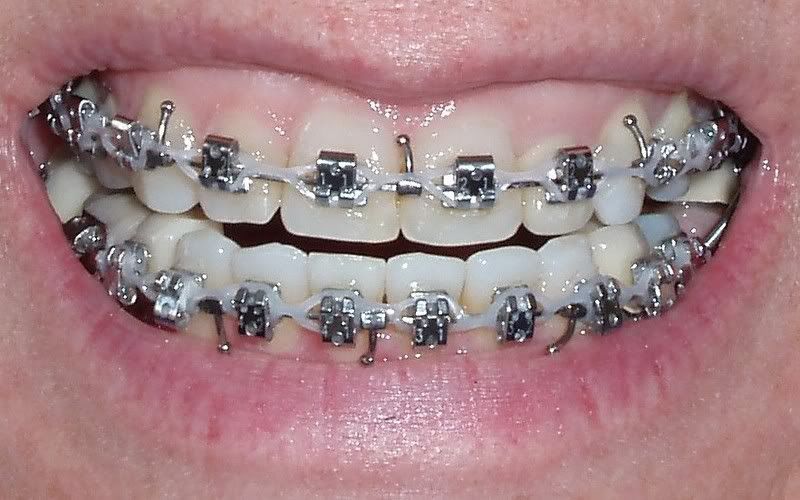 Trust me when I say they are not near as glamorous as they sound....they are, however, the latest addition to the current metal in my mouth though. Nine of the most lovely rounded hooks one could possible desire. Five on top, and four on the bottom, now come admit it...don't you wish your girlfriend was hot like me! LOL...NOT! My ortho spent some time bending them in so they would not be poking me, and like Amy's ortho he used the ones with the nice rounded tips so at the moment they are really not causing me too much grief! I do hate the one on the top center though as it makes me look like I have food in my teeth when I talk now. Oh well, suppose it can't be all good right? I mean what then would I have to look forward too? :)
(Sorry about this terrible pic, I had to contort my mouth all out of shape to be able to get all the hooks in the picture, it makes my teeth look all crooked, when they really are straight!)
Mostly today was pretty uneventful. Had pre-surgical impressions done for the 3rd and final time now. Got new white powerchains, and suffered through about 10 minutes while these little babies were added to my current steel archwire. Then I was released and free to go. The ortho wants to see me on June 11th, two weeks after my surgery for my first appointment. He says that he will be very surprised if I don't have a split on my uppers. That most doctors have to use them on double jaw surgeries in order to anchor the top jaw correctly in place before heading down to the lower jaw. This totally sucks as I had thought I would not be having one at all, and was pretty psyched about that part too! He did say that if I do have one though that he will most likely be taking it out at my two week appointment and tightly banding me instead then, so I suppose I can suffer with a splint for two weeks if I have to.
Oh...and my darling son, found out that on his next appointment (June 11th also) that he will be going naked! Yep that's right his braces are officially coming off in 4 weeks. He of course is very excited! and I'm well....so happy for him, he is going to look so great! but envious too that he will no longer be able to fully appreciate my oral drama anymore! LOL..
My pre-surgical appointment with the Oral Surgeon is on Tuesday, at which point I will be only 9 days from the big slice and dice! So far...knock on wood, I'm doing very well staving off the fear and anxiety. I think for the most part I have come to terms with this surgery and pretty much feel at peace with it. I know it will be fine and all work out wonderfully. I'm prepared, and honestly ready to just get on with things! Hope this feeling lasts until I'm wheeled into surgery!